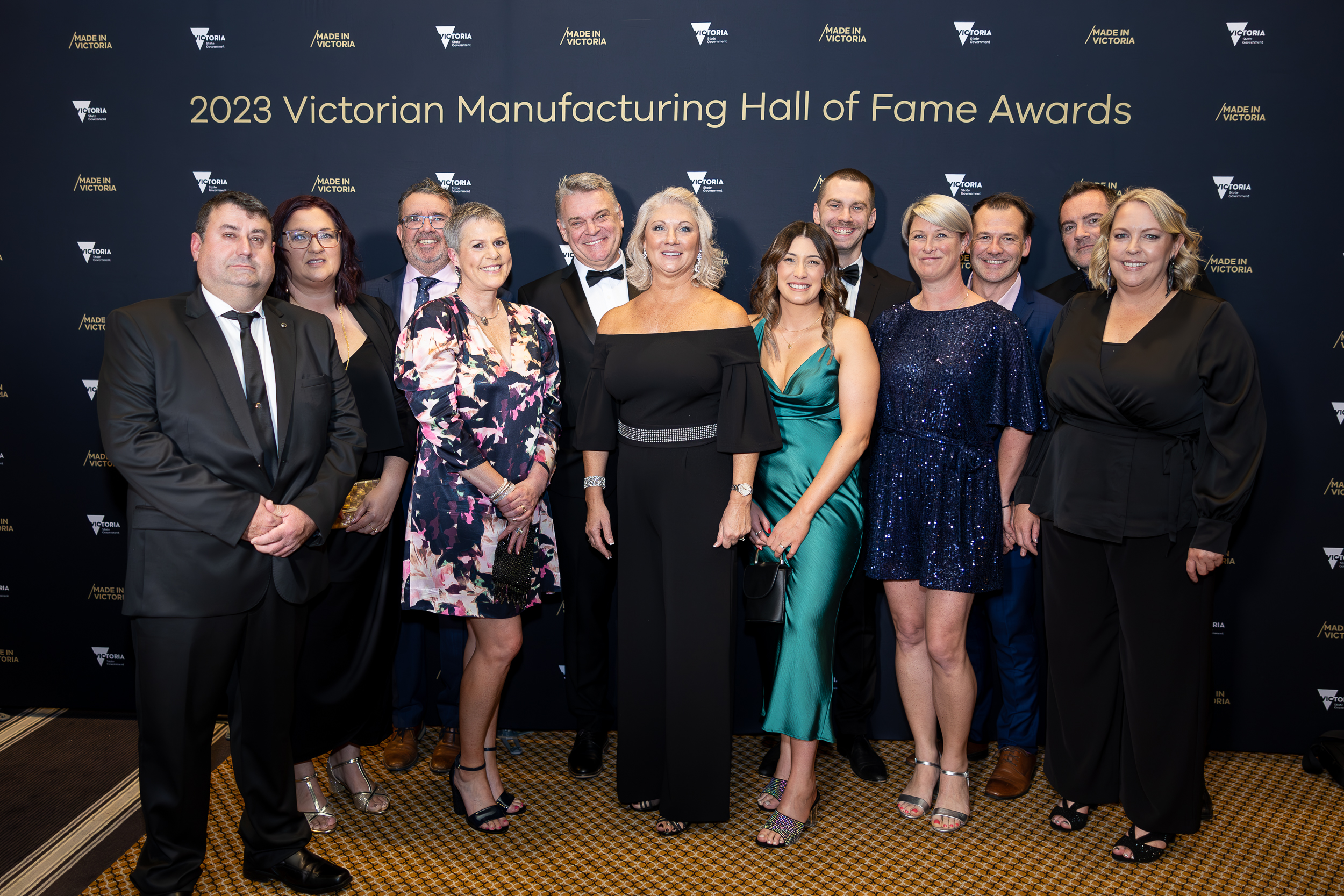 Modra Technology was recently awarded the Leader in Digital and Advanced Technologies Award at the 2023 Victoria Manufacturing Hall of Fame Awards.
Modra Technology was required to provide an extensive submission detailing product development and innovation initiatives over the last 15 years (see Summary below) as well as answering key questions in the areas of innovation, expansion, investment, quality standards, diversity, training, R&D and commercialisation in the development of digital and advanced technologies.
The submission included the commercialisation and digitalisation (robotics) outcomes of the Automated CreelMT™ as a key initiative to enhance the value of manufacturing operations.
"It is a great honour to be recognised for the innovation and digital advancements we have made in conjunction with our customers within the soft flooring industry," said Tim Modra, Founder and Managing Director of Modra Technology.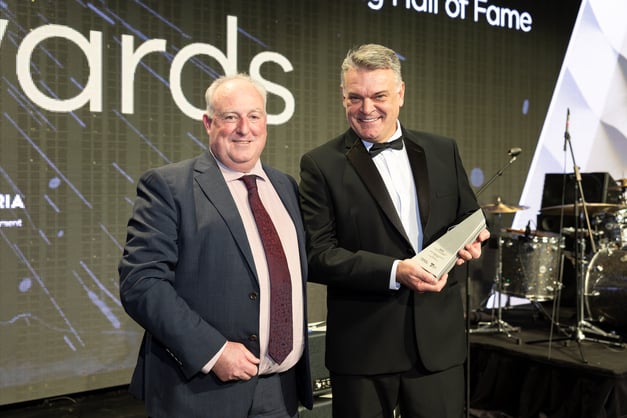 Shane Infanti, CEO AMTIL presenting the award to Tim Modra, Managing Director, Modra Technology
About the 2023 Victoria Manufacturers Hall of Fame Awards
Now in its 21st year, the annual Victorian Manufacturing Hall of Fame Awards recognise outstanding achievements in Victoria's manufacturing industry.
The awards received more than 75 nominations this year, assessed by expert panels including industry leaders to identify finalists and winners among the high-quality entrants.
The state's $33 billion manufacturing industry is made up of around 24,000 businesses, supporting more than 250,000 jobs, and providing around 30% of Australia's manufacturing output.
Summary
The history of Modra Technology is focused on providing solutions to one industry, the manufacture of soft flooring (carpets, carpet tiles and rugs).
Initially, this was the development, manufacture and supply of an electronic sensor for Axminster carpet production. Then the development, manufacture and supply of machinery for carpet product development, sampling and finally automation in this same industry.
1995 - Developed specialised sensors for the carpet industry
2000 - Developed Kibby carpet sample machine for Axminster carpets
2006 - Developed Mtuft for tufted carpet sample making
2014 - Developed the Hollow Needle machine for up to 5 metre-wide broadloom and rug production
2015 - 24 Needle Mtuft for faster sample production
2015 - Mtuft Mini - for low-cost single-colour carpet yarn sample production
2016 - Robotic solution for small-scale sample blow in creels
2018 - Kibby G6 with new capabilities for Axminster sample production
2019 - Mtuft G2 – with new capabilities for sampling tufted carpet
2021 - CreelMT™ complete creel automation solution for tufted carpet manufacturers
The product development tools established relationships with more than 150 customers around the world, many of them suitable for our automation solutions.
Please contact Modra today to discuss any carpet sampling, technology and production machinery requirements.
Production | Sampling | Finishing
*Image credit Department of Jobs, Skills, Industry and Regions